The Peer Leadership Forum (PLF) brings together teams of high-performing young leaders monthly to share ideas, personal goals, and insights. The result is new friendships, new perspectives, skills development and a lot of fun.
Each team is a diverse group of emerging thought leaders representing a wide variety of industries, who together, attend monthly themed meetups focused on the barriers young professionals face and engage in open conversations around overcoming them.
Why join a Peer Leadership Forum team?
Lead: Dive deeper into topics covered at CYP and Board of Trade events
Connect: Develop friendships with a diverse, motivated and high-performing group of young professionals
Contribute: Share insights and perspectives with other young professionals to improve yours and their skills
How do I enroll?
To join, CYP Members are invited to complete an online application form.
Once your application has been approved, you will be placed on a team that is formed based on each team member's age, life stage, industry, and goals. The objective is to develop diverse teams that have unique skill-sets, experiences, and industry expertise.
Application Deadline: Friday, October 30, 2020
What can I expect once I join a team?
By joining a PLF team, you can expect to connect with the next generation of C-suites in the Greater Vancouver region. You can also expect to have a lot of fun, develop great friendships, learn about different industries in the process and attend exclusive events focused on professional development in a small workshop setting.
Here's what you can expect:
Attend the PLF Kick-Off event in October
Participate in at least one of CYP's Community Outreach Initiatives with your team
Host one team meeting per year, which includes managing the venue, setting the meeting agenda, etc.
Attend at a minimum 5 of the 6 PLF team meetings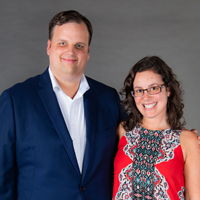 The Peer Leadership Forum is an amazing opportunity to build a strong peer network. This year, I'm thrilled that we are offering some new benefits including smaller, exclusive events focused on your PLF group's professional development. Monthly themes focus on issues young professionals face and are designed to create peer mentorship discussions. This could be the committee in the Company of the Young Professionals program that connects you with your like-minded peers for years to come.
Gavin Jones and Lara Griner
Chair and Vice-Chair, Peer Leadership Forum