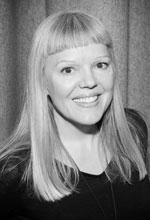 Madeleine Shaw - Co-founder and Creative Director, Lunapads International Ltd and United Girls of the World Society
Nominator: Laurel Douglas

Madeleine and her longtime business partner Suzanne Siemens are highly intentional about using their business talents to achieve social impact goals. The results have been impressive: thanks to their signature line of reusable feminine hygiene products, over 2 million disposable products are diverted from landfills every month. Since 2000, Shaw and Siemens have been deeply engaged in supporting girls' education in the developing world with their Pads4Girls and One4Her programs, which have touched the lives of over 300,000 girls in 17 countries. Since 2008, the pair have mentored a Ugandan padmaking venture modelled on Lunapads, AFRIpads, which today employs 150 people and in which Lunapads became a shareholder in 2013. In 2014, Lunapads' activities expanded to events with the launch of G Day, a national rite of passage celebration series for adolescent girls.
What one piece of advice would you give to women considering an entrepreneurial career?
Choose something that you're genuinely passionate about in terms of social impact, something that aligns with your personal values and the change that you want to see in the world.
How do you define success?
Leaving the world better off than we found it. Giving more than we take. Honouring vision, creating something new and inspiring others.
Where do you get your best ideas?
Lately I have been finding immense inspiration by journeying back to my adolescent memories and remembering what I was interested in and loved to do at that time in life. I challenge anyone to do this and not find some sort of nugget.
---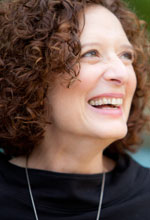 Linda Solomon Wood - CEO, Observer Media Group
Nominator: Esther Chetner

In her early years as a journalist, Linda was mentored by John Seigenthaler, a prominent progressive editor, who guided her to set the bar high. She dreamed of someday owning her own paper, which would carry the torch she'd been handed. However, the established realm of printed media ownership was impossibly expensive to enter. With the advent of new technology, Linda realized the digital world offered an incredible opportunity. On a bootstrap budget, Linda could follow her dream. A few people warned: you're too old to start, and media is dying. Yet, Linda was determined. She was willing to start at the beginning, to persist, to grow from occasional mistakes. She worked to shirk her perfectionism, and learned to move on, while still maintaining high standards. The power that came from taking what she loved, and just doing it, pushed her forward and still keeps her going strong. Linda says it's cliché but true: "If you can imagine it, you can do it. You need faith in your ideas and in yourself. I just believed in the power of journalism, it couldn't really be dying."
What one piece of advice would you give to women considering an entrepreneurial career?
Persist.
What motivates you as a business / community leader?
Building a media company that rocks.
What do you think makes an individual successful in business?
Charisma and awesome interpersonal skills. Passion and persistence. A willingness to tough it out day after day at grinding hard work. Being in the right place at the right time. An ability to recognize and leverage opportunity. Luck. Did I mention hard work?
How do you define success?
I measure success through the duo metrics of social impact and revenue growth. They're both extremely important.