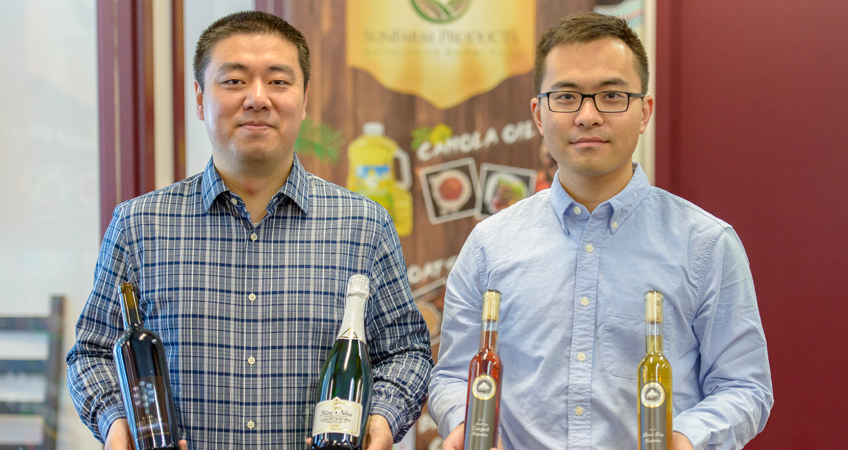 Jerry Chen
CEO, Sinova Foods International. Established 2010
"Our core business is to bring Canadian agrifod brands to large consumption markets in China, providing supply chain management, branding, and e-commerce operations."
---
Where is your current export market, and where are future prospects?
We currently export to China. We'd like to expand to Hong Kong, Japan, and other Southeast Asian countries such as Thailand and the Philippines.
What challenges did Sinova face in reaching a Chinese market?
Suppliers of the Canadian brands are often not export-ready. Shelf life, packaging and package design were lacking. In Asia they want products to have a high-end appearance. Asian countries are looking for imported premium products. Furthermore, for consumers in China and other Asian countries, long shelf life is very important.
What do you wish you knew when you started exporting?
We wish we could have anticipated peculiarities of our target markets. In China, for example, chocolate goods are popular for four months; in Canada they sell year-round. Taxes and duty can make products very expensive. Australian food importers to China have 30% less duty because of trade agreements, and a Canada-Chinese agreement is likely 10 to 15 years away. There is no quick solution, so product differentiation, marketing and design are very important.
How could participation in the World Trade Centre's Trade Accelerator Program have helped?
The opportunity for experienced business owners to provide lessons and mentorship would be valuable, as would solution-sharing from the public and private sectors. We know very little about other markets like Japan and Hong Kong, so learning about challenges and opportunities in unfamiliar markets would be beneficial.
What advice on exporting can you share with other companies?
Know your products, strengths, and weaknesses. Having a plan is much better than no plan. Be willing to try new markets. Find local partners. Distribution and product development is key. Nowadays, you are not just competing with your local peers. You are competing with international competitors. Know the consumer trends. Have a willingness to try things on the other side of the world.
What's an example of how you refined your export tactics?
E-commerce in China is very advanced and is evolving fast. More and more customers are now importing online. We are the main distributor to these stores. We started doing our own e-commerce a few years ago. Seven years ago, the mentality was focussed on consolidating cargo and finding trade partners. But now we have built a much longer value chain than before. Customers can buy our products in pallets or cases. Teaming up with a large platform like Alibaba allows us to market any brand that we represent.
From your perspective, do enough B.C. companies benefit from exporting?
As far as I'm concerned, there are not many in the agrifood industry. I think Vancouver could be the centre of a food revolution. It will require aggressive effort applied to penetrating new markets through innovation.
When you are an export company, people think it's very simple. That's not the case, particularly in the packaged food space. It's not a commodity. Consistency of supply, pricing, and product differentiation are key factors.
You can't be a generalist. You also need to be a specialist. We have become an e-commerce company, a supply chain company, and a branding agency.
What factors are you considering as you choose your next international market?
We are thinking about Hong Kong—because it's a true free-trade region, it's considered the centre of Southeast Asia, it has a high population density, and English is spoken by most of the population. Warehouse space is scarce; they want your product, but in small quantities. However, if you can succeed in Hong Kong, the rest of the Southeast Asian countries will follow.