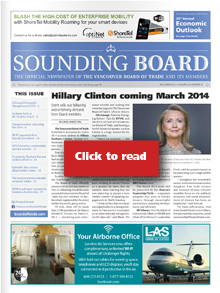 Sounding Board is the official publication of The Vancouver Board of Trade.
The monthly newspaper provides analysis and discussion of regional and national issues facing the business community.
Sounding Board is published 11 times per year by Business in Vancouver Media Group in partnership with The Vancouver Board of Trade.
The paper is read by leading business executives and their employees, as well as federal, provincial and civic elected representatives. Sounding Board has a primary circulation of 12,500 and a conservatively estimated total readership of 37,500.
Editorial Submissions
We welcome editorial submissions from our Members.
Publication of editorial submissions is not guaranteed. It is subject to available space, news quality and relevance. The editor reserves the right to edit submissions for length, clarity and legality.
Articles should be a maximum of 400 words and if available, be accompanied with a high-resolution photo. Please include the author's full name, position, and company website address.
Email submissions or questions to Greg Hoekstra at .
Learn more about advertising opportunities