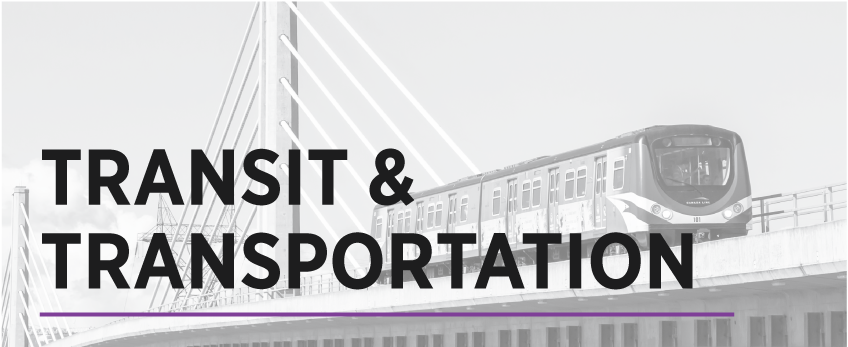 While we are encouraged by the recent progress on public transit expansion and improvement, we remain concerned that the strength of our families, businesses, and overall economy will be negatively impacted should dedication to meaningful, timely transit and transportation investments waver. In the coming years, an adequate public transit system that is well prepared for population growth will be critical in ensuring a high quality of life and business competitiveness within Greater Vancouver. The Scorecard reports that the region currently lags in this area, earning only a "C" grade for both its proportion of non-car commuters and its average commuting time. Significant bottlenecks in the movement of goods and people hampers our ability to ensure we maintain a highly efficient and environmentally responsible gateway.
Recommendations
To address transit and transportation issues, the Greater Vancouver Board of Trade recommends that the next Provincial Government:
Build on the momentum created by recent Phase 1 transit funding with continued investment in road and transit expansion and improvements, with projects such as:

Rapid transit expansion in Surrey and to Langley
Broadway Millennium Line extension
10-lane bridge to replace the Massey Tunnel
Region-wide bus service expansion
Pattullo Bridge 6-lane replacement
More frequent Seabus service

Take a leadership role in working with local governments and communities to pursue mobility pricing (e.g. road tolling, distance pricing, etc.) to fund further investments in public transit and roads; and
Establish a new provincial regulatory framework which introduces ridesharing to the Province and provides residents with greater access to safe and reliable passenger transportation options:

Review and update taxi regulations to enable the industry to effectively compete against new services and provide consumers with the benefits of a more competitive ride-for-hire market;
Modernize provincial regulations and harmonize municipal regulations to remove unnecessary red tape and establish a regulatory regime which fosters innovation and competition.
Where they stand

---
Roads & Transit
The BC Green Party is in the process of rolling out their platform for the 2017 provincial election, and has yet to make a significant announcement on roads and public transit policy.
However, Green Party Leader Andrew Weaver has said his party sees a one-third funding commitment for major capital projects as a starting point.
In the recently released "Climate Leadership" portion of their platform, the BC Green Party says they want to provide "predictable funding for public transport," ensure transit frequency meets demands, develop a 10-year transportation plan focused on "affordable, clean transportation," and put portion of an $80 million fund for GHG reduction and adaptation toward green transportation infrastructure.
One transportation issue the BC Greens have been very active on is the importance of the B.C. Ferry system to our provincial economy and the consequences of fare increases.
Mobility Pricing
Ridesharing
In February the Dr. Weaver introduced a private members bill to the B.C. Legislature in support of ridesharing.
In the released portions of the BC Green Party platform, ridesharing is mentioned as an innovative way to reduce consumption of electricity.
Our Analysis
Questions remain on the Greens' policy positions related to Transit and Transportation in Greater Vancouver. The Greens have not released their major infrastructure priorities in the Lower Mainland, and what they believe to be the correct funding formula to do so. However, Leader Andrew Weaver has said his party sees a one-third funding commitment to major capital projects as a starting point. The party appears to be open to some form of mobility pricing, however has offered little detail on its purpose, structure, or applicability to Greater Vancouver.
We hope that as their platform continues to be released they will shed additional light on priorities identified by GVBOT including the replacements of the Pattullo Bridge and Massey Tunnel, and funding for Surrey LRT and Millennium Line Broadway Expansion.
Rideshare Enabling Act in 2017 introduced by Dr. Weaver signalled support for ridesharing and the sharing economy in B.C. more broadly. However, the private members bill was aimed at "starting a conversation" and did not provide a concrete framework for such services.

---
Roads & Transit
In late March, the BC Liberal Government announced $2.2 billion in funding for transit projects in Metro Vancouver. This matches the funding commitment made by the federal government and provides significant support for Phase Two of the Mayors' Plan. The funds could cover 40% of both the Surrey LRT and Broadway Skytrain extension. At the announcement, the Government also affirmed its commitment to 1/3 funding for TransLink's Pattullo Bridge replacement.
The BC Liberal Government has championed the $3.5 billion to a 10-lane, tolled bridge replacement for the aging Massey Tunnel. While the planning began in 2012, the contract for the project will not be awarded until after the election. Advance work is underway and construction is expected to begin later in 2017.
The BC Liberal Government has made other funding commitments for the provincial highway network throughout Greater Vancouver, including:
Mobility Pricing
The BC Liberals have yet to endorse mobility pricing, however it continues to be pushed by Metro Vancouver Mayors. Minister Fassbender has stated the Government will listen when they are presented with a "substantive" proposal by the mayors.

[Update: April 11, 2017]

On April 10, the BC Liberals announced their commitment to cap tolls at $500 dollars a year for commuters using the Port Mann and Golden Ears bridge. This cap will be expanded to include the replacements to the Pattullo Bridge and George Massey Tunnel.
Ridesharing
In early March, the B.C. government announced their plan to introduce a framework for ridesharing by the end of 2017. Ridesharing regulation will be coupled with the removal of competitive barriers for the taxi industry including geographic borders, as well as $1 million in provincial funds to develop an app and $3.5 million in crash-avoidance technology.
Our Analysis
The BC Liberal Government's recent $2.2 billion commitment is an important step forward for Phase Two of the Mayors Plan. However, funding uncertainties remain due to lack of agreement on suitable sources of local government funding. Mobility pricing continues to have broad-based support within our Membership, and we continue to call on all parties to show support for this concept as an inadequate infrastructure funding model continues to exacerbate transportation bottlenecks in our region. [Update: April 11, 2017] The BC Liberal platform reaffirmed their commitment to replace the George Massey Tunnel with a new bridge. However, it is unclear how their policy commitment to cap bridge tolls would fit into a comprehensive mobility pricing strategy for Metro Vancouver.
The GVBOT has long supported the plans for a 10-lane bridge replacement for the aging Massey Tunnel to ease congestion, improve transit, and facilitate both the movement of people and goods.
The Board of Trade welcomed the Province's ridesharing announcement, and saw it as a meaningful first step forward for the future of mobility in our region. While it satisfied nearly all the recommendations presented in our February 2016 research report Innovation Transportation Options for Metro Vancouver, the success of their framework will now depend on its complicated implementation.

---
Roads & Transit [Update: April 17]
Mobility Pricing [Update: April 17]
The BC NDP have not made any announcement on whether or not they would work with local communities to pursue mobility pricing. However, they have come out in favor of the Mayors' Ten-Year Vision which envisions mobility pricing in the Greater Vancouver region.
Ridesharing [Update: April 17]
Following the province's introduction of a framework to bring ridesharing to B.C. by 2018, the NDP Leader John Horgan criticized the government's position saying they would scrap the plan if his party wins in May, and that the NDP would conduct post-election consultations to find a fairer solution. Their platform reaffirms this position, and believe a different regulatory framework is necessary, one that creates a "level playing field for all providers."  
Our Analysis [Update: April 17]
The BC New Democrats have so far tried to distinguish themselves from the government in their approach to transit and transportation—unsurprisingly as it remains the top issue in our region. Their commitment to increase the provincial share of major transit project funding up to 40% is welcome news to support the Mayors Plan and build on the momentum of Phase One. Their platform reaffirms both their support for the Mayors' Ten-Year Vision as well as the elimination of tolls on the Port Mann and Golden Ears bridges. While the platform makes no mention of mobility pricing, it is envisioned in the Mayors' plan. It is unclear how these two, seemingly countervailing commitments, can be reconciled.
The Broadway Skytrain extension, Surrey rapid transit, the Patullo bridge replacement, and increased bus service are all projects supported by the GVBOT and our Members.
However, the GVBOT has long called for a 10-lane bridge replacement for the aging Massey Tunnel to ease congestion, improve transit and facilitate both the movement of people and goods. Growing capacity in this critical transportation corridor is necessary for the long-term health of our gateway and communities.  It is extremely disappointing that the NDP platform makes no mention of the Massey Tunnel replacement, a project critical to the movement of people and goods in Greater Vancouver.
While we are pleased to see the BC NDP's commitment to removing the referendum requirement for transit funding in the Lower Mainland, we are deeply concerned of their intent to develop a new governance model for TransLink. After years of uncertainty due to previous governance changes, TransLink is benefitting from the stability of a new management team and an evolved relationship between the Mayors' Council and the TransLink Board of Directors. Confidence in the current structure has delivered the Mayors' Ten-Year Vision and significant funding commitments from the senior levels of govern to implement them.
The BC NDP has also called for greater consultation before ridesharing is to be introduced to B.C., however Vancouver continues to suffer from a lack of innovative transportation options and a level of taxi service that falls well below those of our competitors. Furthermore, we continue to be North America's largest jurisdiction without ridesharing services, signaling to our burgeoning tech sector that B.C. is not a province open to new and innovative ideas. The GVBOT has been a strong advocate of ridesharing in our region, and believes it is time to move forward on the issue to build a more competitive passenger transportation industry. Their platform criticizes the current BC Liberal Government's plan, but offer little more then rhetoric in outlining their own approach. They discuss regulatory changes and a level playing field, but there is no indication of what exactly is meant by this, and the issues they have with the BC Liberal plan.