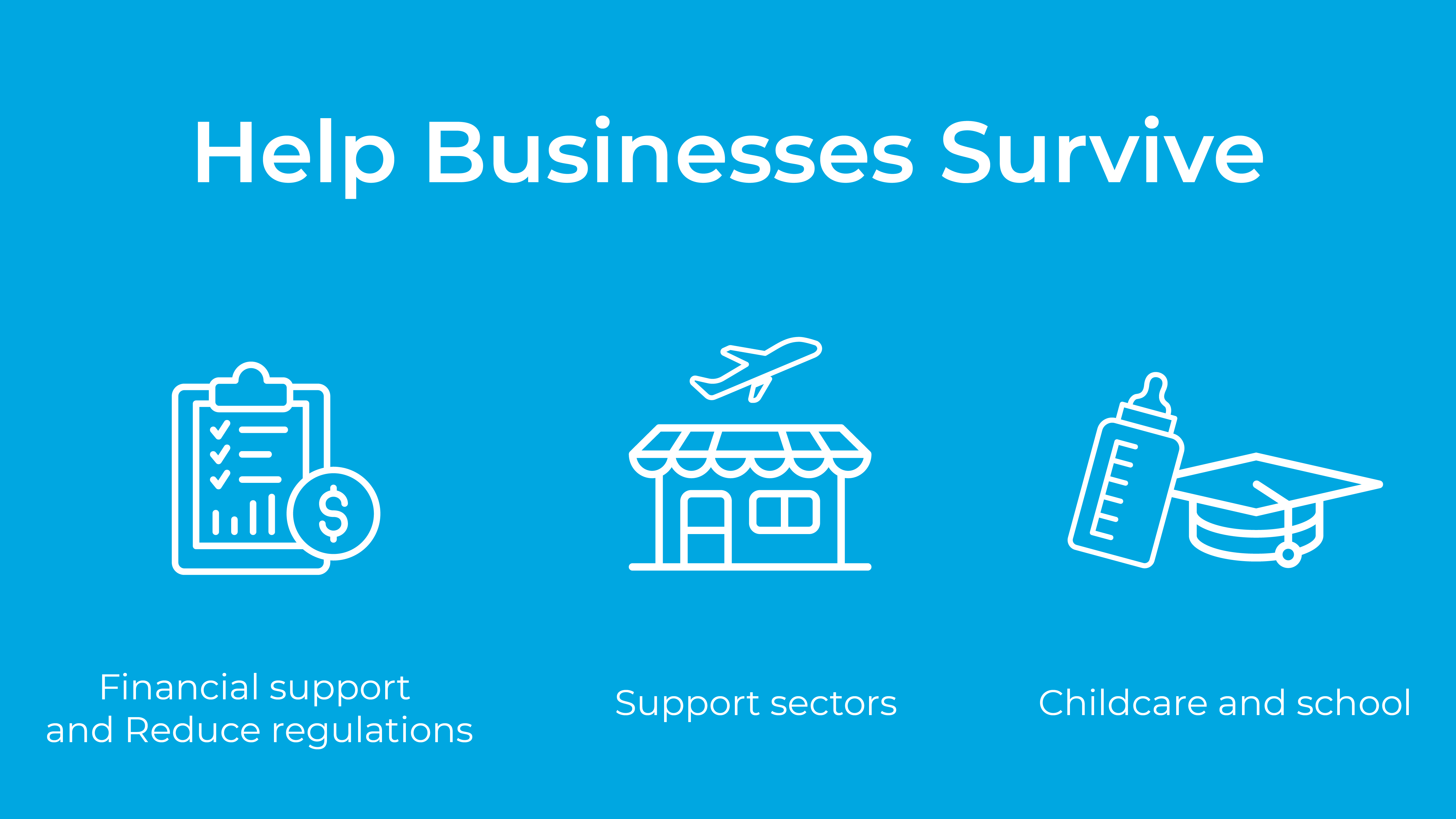 It is important that the Province focus on immediate effective measures that help businesses recover and get people back to work, without losing sight of efforts that underpin our competitiveness, and that foster the future prosperity of B.C. Through a concerted effort, progress can be made through government programming and sector-specific solutions. Equally important is that the government refrain from implementing measures that add administrative burden, red tape, or costs on to struggling businesses.
Business support programs and government measures in response to COVID-19
Focus on effective measures that help businesses recover and get people back to work, without losing sight of efforts that underpin competitiveness.
Work with stakeholders to review and revise COVID-19 programming to ensure policies are effective, robust, and encourage economic activity.
Enhance provincial role in providing business support and promoting business recovery:

Provide longer tax deferral on tax remittances and/or a long-term payment plan for businesses impacted by COVID-19.
Provide additional financial support for SMEs such as launching a working capital grant program and a COVID-19 training grant.
Prudently encourage citizens to participate in economic activities where safe.
Employee withholding (i.e. payroll) tax holiday.
Workers Compensation Board Premiums deferral.
Corporate tax installment holiday for a certain length of time (i.e. no interest on installment payments that would otherwise be required).

Utilize government contracts to support businesses and consider ways to provide more certainty and longevity to contracts.
Support sectors that are positive economic multipliers for the region and province, such as tourism and travel
Seek innovative solutions that allow for safe international travel as well as domestic travel to keep our regions connected.
Incentivize travel within the province and country in part by lower costs for travel through a waiver of PST on items such as hotels and flights for B.C. residents and/or broadening the exemption from the carbon tax on aviation fuel to include intra-provincial flights.
Fund marketing campaigns to encourage tourism and travel demand.
Coordinate with public health and various government ministries, as well as new technologies to support safe travel.
Take a science-based approach to travel restrictions, including the easing of travel restrictions from locations with a low prevalence of COVID-19, especially within Canada.
Support new technology that facilitates rapid testing and screening processes.
Ease the regulatory burden and stop the layering of taxes on business
Review and ease cumbersome and at times outdated regulations.
Ensure that any new measures or initiatives do not add to the financial burden on businesses.
Explore options for peeling back the layers of business taxes and fees.
Institute a process whereby businesses and associations can propose regulatory changes to support businesses.
Explore solutions to bridge the childcare gap
Continue providing support to childcare facilities in service.
Ensure that benefits for closed childcare facilities incent them to reopen.
Explore all options, including flexible before and after care at schools.
Download The GVBOT Economic Recovery Plan