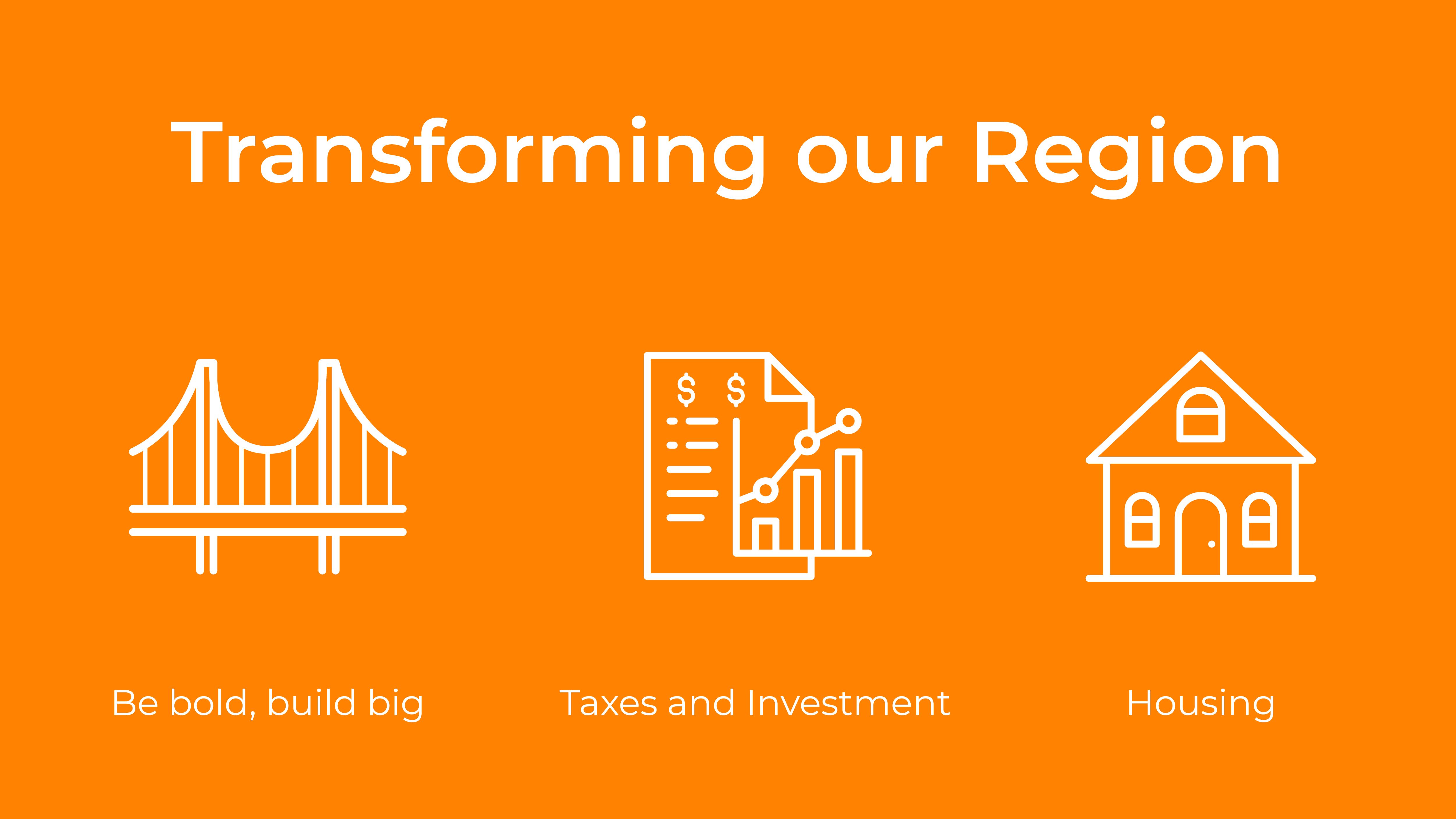 Stark disruptions resulting from COVID-19 have presented the Province with a unique opportunity to address deep-rooted economic and societal issues. Building the infrastructure projects that will help stimulate economic activity, committing to improve the regulatory environment for getting projects built and fostering investment should be top of the list for transforming our region. Enhancing mobility and the movement of goods in and through the Greater Vancouver Gateway, addressing the lack of housing affordability and redoubling efforts to connect all corners of the province will also meaningfully improve the livability and workability of BC.
Measures to better connect B.C.
Continue efforts and build upon efforts to connect rural B.C. communities.
Expand or create new broadband funding programs.
Establish a local connectivity infrastructure fund.
Improve coordination between internet service providers, the Government of Canada and the Province, to streamline funding opportunities for larger rural connectivity expansion projects.
Investing in Infrastructure
Advance the region's priority infrastructure projects
Remain committed to the near- and medium-term capital projects, such as rapid transit expansion in Surrey and to Langley, the Broadway Millennium Line extension to the University of British Columbia and the urban transit gondola to Simon Fraser University.
Prioritize new investments in transportation and infrastructure projects in the region that will stimulate economic activity.
Follow the lead of other provinces in finding ways to accelerate public infrastructure projects by reducing red tape.
Work with the private sector to advance projects at risk or in need of incremental support, especially those well-aligned with the Province's sustainability priorities, such as YVR's Geoexchange plant.
Ensure that energy efficiency investments are being expanded in coordination with industry.
Support the transition to a low carbon future focused on COVID-19 recovery projects that advance renewable energy, demonstrate technologies, increase the resiliency of the energy system, and grow it to serve new markets with low-carbon fuels
Maintain fluid mobility and support active modes
Work closely with our transit agencies, especially TransLink, to build confidence in the public transit system and necessary funding to maintain adequate service.
Consider providing funding for active transportation, through TransLink, or with municipalities and other partners.
Improving regulatory processes to support major projects
Make efforts to ensure a regulatory environment that streamlines processes, reduces red tape, and fosters investments in major projects.
Examine and support, by a whole of government effort, all projects that either have an approved environmental certificate or are starting the process to obtain one.
Continue to support efforts to develop LNG marine fueling services and infrastructure in partnership with the Federal Government.
Make the necessary legislative and/or regulatory changes to expedite processes for both public and private projects, while maintaining environmental and safety standards.
Reinstate a fair and open tendering process for public infrastructure projects
Use an open and fair tendering process for provincial infrastructure projects to maximize taxpayer and recovery dollars and ensure that all qualified B.C. companies and employees can work on and benefit from these projects.
Increase throughput of our Gateway and protecting industrial lands
Continue facilitating ongoing development of the gateway sector's throughput.
Take a leadership role in protecting industrial land.
Support the ongoing development of projects such as the Massey Tunnel Replacement, increased rail capacity, fluidity and safety to and through the Lower Mainland, and increased cargo transport corridors through the region.
Encourage the Federal Government to recapitalize the National Trade Corridor Fund, and provide provincial coordinating support as required.
Tax system that drives investment and supports SMEs
Addressing the Marginal Effective Tax Rate
Take bold action to improve investment climate by lowering the marginal effective tax rate either through a made-in-B.C. value added sales tax or removing the PST on capital expenditures and/or on business inputs
Consider lowering the PST for a set period of time.
Exploring other options to spur investment
Consider establishing a true Free-Trade Zone (FTZ) to support BC's post-COVID-19 competitiveness and recovery.
Consider spearheading a national initiative - or a separate agreement for just BC - to establish the Opportunity Zones model.
Explore a place-based investment tax credit to investments in underperforming parts of the province.
Explore tax-incentive zones in which eligible new businesses could qualify for the reduction or cancellation of certain provincial taxes, fees, and charges.
Helping urban, and Main Street businesses survive
Create a new commercial property 'sub-class' to enable split-assessments.
Work with stakeholders to explore options to bring about greater fairness and certainty to the property tax system.
Internal trade liberalization as part of economic recovery
Pursue bilateral or multilateral trade agreements with provinces, eliminate interprovincial trade barriers and increase regulatory harmony.
Encourage municipalities and regional entities to update and harmonize business policies to improve the ease of doing business across municipal boundaries.
Make more affordable housing available
Support construction of housing options known as the "Missing Middle".
Support municipalities to improve and accelerate the approval process, ensure a consistent, empirical system to measure, monitor, and compare timelines and processes across municipal boundaries and simplify and streamline the development process.
Explore options for an accreditation regime that allows professional firms the option to "fast-track" development applications.
Remove uncertainty from Community Amenity Contributions
Overhaul the community amenity contributions (CACs) rules to improve housing affordability in our region:

Develop a detailed Best Practices Guide for CACs and density bonusing.
Introduce a robust ongoing monitoring program.
Create legislation on CACs that ensure compliance with the Guide in implementation.
Determine an effective third-party escalation mechanism to help ensure timely decisions.
Government
Lead the digital transformation by making the "Digital Government" a priority and demonstrating this through material transformation and procurement.
Download The GVBOT Economic Recovery Plan