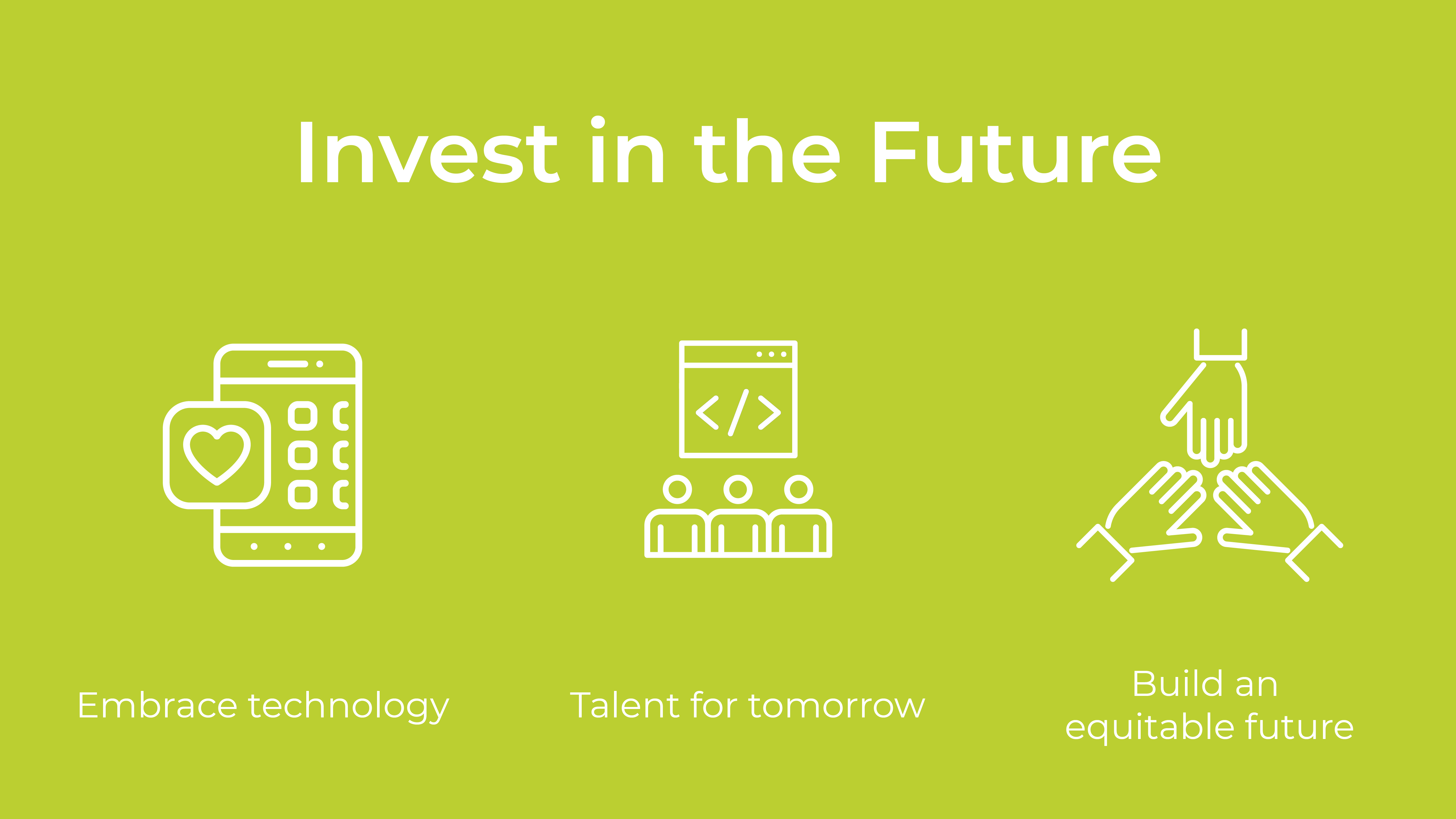 Beyond recovery, the future prosperity of Greater Vancouver is contingent upon foundations laid today. Our region needs strategic investments that help our businesses and the broader society overcome the pandemic while also paving the way for longer term competitiveness. Investments that advance and leverage technology and strategically prepare the workforce of tomorrow will be key. Additionally, investments that ensure our region is building a supportive and inclusive environment that embraces diversity will mark our success.
Public Health
Make the necessary investments in public health, including testing capacity, infrastructure, and other measures to ensure our resilience, the safety of all citizens, and to support the viability of businesses and the economy in case of a second wave.
Expand and accelerate investments in digital health infrastructure.
Support the accelerated adoption of innovative digital healthcare solutions.
Innovation, data, and digital technology
Fostering innovative technologies that evolve our day-to-day
Continue supporting the development of innovative alternatives to service delivery, such as in health, education and public safety, to leverage the benefits of this technological evolution and innovations.
A regulatory environment that fosters innovation
Ensure a consistent and predictable regulatory ecosystem to create the conditions that foster the efficient development and deployment of new technologies such as 5G.
Data and technology
Build off of the work being advanced by the Digital Technology Supercluster to advance a data and intangibles plan for BC that focuses on cultivating and keeping companies local, growing the technology ecosystem, and commercializing data and IP in B.C.
Work closely with post-secondary institutions and the private sector, to build support for innovative companies and allocate research funding to B.C. companies that will keep IP and data in the province.
Redouble procurement efforts to focus on local businesses, especially with regards to technology, in order to cultivate and support B.C. businesses.
Unlocking B.C.'s agritech potential
Continue the implementation of the recommendations outlined by the BC Food Security Task Force in the report, The Future of B.C.'s Food System.
Create a new agricultural industrial zone to help unlock technologies and innovations of the agricultural sector.
Education and Training
Focus on training, educating, re-skilling and supporting our workforce to ensure it is keeping up with the digital transformation and evolving in tandem with the evolution of the nature of future jobs.
Implement measures that enable B.C. students to access, attend and participate in post-secondary institutions.
Support recent graduates navigate and access a difficult labour market.
Accept and value micro-credentials as an expedited option for employees to upskill or shift focus to find their place in the labour market.
Consider introducing a time-limited program to support on-the-job training focused on certain populations, like youth or vulnerable populations.
Youth
Consider supports to encourage or subsidize employment opportunities for young British Columbians.
Consider the establishment of a youth advisory committee to consult with youth on economic recovery.
Considering a Start-Up Capital Program that would provide seed capital to young entrepreneurs to start their own businesses.
Diversity and Collaboration
Recognizing the economic value of a more inclusive and diverse workforce, continue to work with businesses and communities to improve outcomes for all underrepresented and marginalized groups.
Reconciliation
Continue to work with the Federal Government and the private sector to improve employment outcomes for Indigenous peoples in the province.
Provide greater access to affordable capital to enable broader Indigenous participation in the economy.
Download The GVBOT Economic Recovery Plan