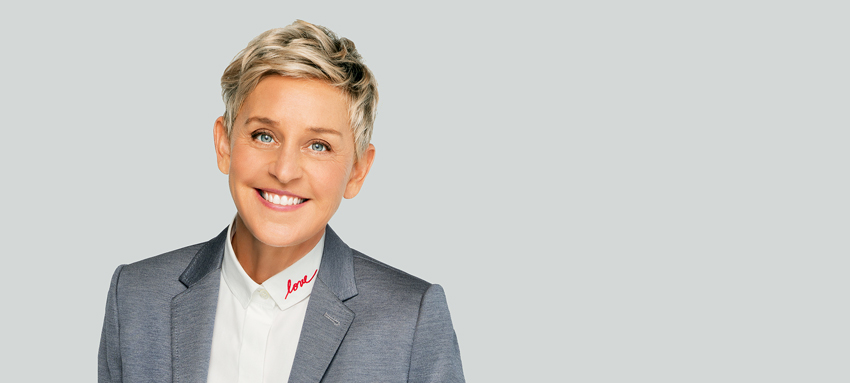 For Immediate Release
July 26, 2018
A Conversation with Ellen DeGeneres
Coming to Rogers Arena in Vancouver on Friday, October 19, 2018
VANCOUVER, B.C. — The one and only Ellen DeGeneres will be coming to Vancouver for a moderated Q&A conversation on Friday, October 19, Live at Rogers Arena presented by TD Bank and hosted by the Greater Vancouver Board of Trade.
Ellen DeGeneres continues to deliver uplifting, inspiring, and hilarious experiences for her fans. Her distinctive comedic voice and infectious personality have earned her recognition as a household name and a global entertainer. A Conversation with Ellen DeGeneres will highlight her one-of-a-kind sense of humor, warmth, and kindness.
"At TD, we are extremely proud to be the presenting sponsor helping to bring Ellen to Vancouver," said Mauro Manzi, Senior Vice President – Pacific Region, TD. "Ellen is more than just a comedian and entertainer. Like TD, she's also a strong supporter of women, diversity and inclusion, the LGBTQ2+ community and other humanitarian causes. We look forward to her appearance in October."
"We are thrilled to have an opportunity to host Ellen in Vancouver this fall for a candid discussion on her life, career, success, and overcoming adversity." said Hon. Iain Black, President and CEO of the Greater Vancouver Board of Trade.
"Ellen has been consistently ranked in our Member surveys as a top choice for taking our stage," added Black. "We are very excited to be hosting this inspirational and uplifting evening with one of the world's most eminent media personalities. Her own history, and her phenomenal success building her brand, shared in her own words, will surely offer many valuable insights for our Members."
The Ellen DeGeneres Show upholds its reputation as a leader in the daytime talk show genre with unparalleled celebrity interviews, musical performances, topical stories, extraordinary human-interest guests, and sought-after viral sensations worldwide. The Ellen DeGeneres Show has earned an impressive total of 59 Daytime Emmy® Awards since its inception in 2003, including 10 for Outstanding Talk Show/Entertainment, crowning it the record holder in this category.
Through the power of media, Ellen has created an unparalleled connection with people around the world. Her accomplishments as an entertainer and philanthropist have established her as one of the most respected and admired figures today.
EVENT DETAILS
Date: Friday, October 19, 2018
Time: 7 p.m.
Venue: Rogers Arena
Tickets: Visit ticketmaster.ca or call 1-855-985-4357

A limited number of advance tickets go on sale to GVBOT Members July 31. Email .
Public ticket sales begin August 15 at 10 a.m. at ticketmaster.ca.
-30-
For more information:
Christian Darbyshire
TINEPUBLIC

Greg Hoekstra
Greater Vancouver Board of Trade

About the Greater Vancouver Board of Trade:
Since its inception in 1887, the Greater Vancouver Board of Trade has been recognized as Western Canada's leading business association. With a Membership whose employees comprise one-third of B.C.'s workforce, we are the largest business association between Victoria and Toronto. In addition, we operate one of the largest events programs in Canada, providing a platform for national and international thought leaders to enlighten British Columbia's business leaders.