The Leaders of Tomorrow (LOT) is a mentorship program that connects top post-secondary students with leading industry professionals.
Launched in 1999, LOT is recognized as the premier mentorship program in British Columbia. Candidates go through a competitive and rigorous selection process to experience a year of accelerated professional and personal growth in the following areas:
Mentorship
Develop a one-on-one relationship with a professional in your area of career interest
Leadership
Learn from industry leaders and develop your personal leadership style
Networking
Gain access to over 100 Greater Vancouver Board of Trade networking and development events
Volunteerism
Be an agent for change in your community while growing skills to equip you for your career
Meet the Leaders of Tomorrow
How can I get involved?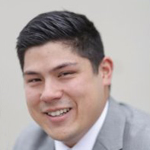 The Board of Trade's Leaders of Tomorrow program gives students the opportunity to engage the business community in a meaningful way. The opportunity to learn from leading industry professionals through mentors and the committee leaders is unparalleled within the Lower Mainland. The LOT program built me up as a professional and a person by giving me the skills and confidence to succeed. I highly recommend the Leaders of Tomorrow program to all students seeking guidance, support, mentorship or personal growth as they complete their degree.
Tyler Chan
PwC
Who should join the CYP program?
Whether you're new in town and want to get plugged into the local business community, a seasoned Vancouverite who wants to build your network and grow as a professional, or a recent graduate of our Leaders of Tomorrow mentorship program, this is the place for you!
What makes CYP different from other professional associations?
CYP is an exclusive and vibrant community of emerging leaders in the Greater Vancouver business community. We also host fun and interactive events, such as our Leadership Cafes, our series of networking events, and our annual TED-inspired forum, CYPx. In addition, we offer Members the opportunity to participate in a Peer Leadership Forum group, where you will share career advice in an intimate group of other young professionals — often developing close friendships along the way.
How do I complete the Engaged Leadership Certificate?
All CYP Members have the option of completing our highly regarded three-year Engaged Leadership Certificate. The certificate recognizes those who are active in the Greater Vancouver Board of Trade's programs while meeting specific requirements in leadership, networking, volunteerism, and innovation. Upon completing the certificate, graduates are recognized at our annual Young Professionals Leadership Forum in May. Want to learn more? Email