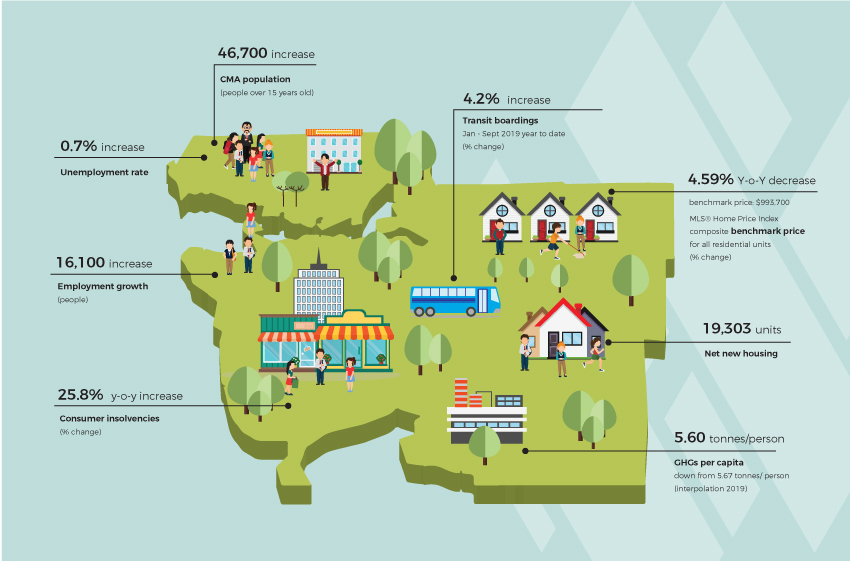 Greater Vancouver Regional Indicators: 2019 Year in Review
The prosperity of our region and the quality of life we have become accustomed to, hinge on a variety of factors. The GVBOT's 2019 Year in Review summarizes the region's progress as it pertains to select indicators impacting Greater Vancouver and helps us understand how we are performing as a region. Year in Review 2019 demonstrates diverging performance across indicators in our region, signalling positive developments but also cautioning against certain vulnerabilities in Greater Vancouver.
At first blush, several indicators paint a favourable picture of the region's progress in 2019. Thousands of new housing units were built, jobs were created, unemployment further contracted, and GHG emissions per capita decreased. After a record year in 2018, transit ridership increased steadily between January and September 2019, with boardings increasing 4.2 per cent year-to-date - although ridership may be softer in the final quarter due to labour disruptions. While the region's ridership growth is an outlier in North America, congestion remains a key regional challenge. The indicators also reveal continued efforts are needed to ensure our regional economic competitiveness and well being:
While over 19,000 new housing units (net) were built in the region last year, Greater Vancouver welcomed approximately 46,700 new residents. The region must continue to prioritize the development of housing stock to address the growing population and affordability concerns, particularly as the region expects to grow by one million people in the next 20-30 years.


60 per cent of GVBOT Members report having trouble recruiting and retaining workers due to the high cost of living in Metro Vancouver. Attracting and retaining workers will be an important determinant of future growth and prosperity for our region.


In 2019 consumer insolvencies in the region increased nearly 26 per cent year-over-year. Canadian household debt is the highest it's been since 2008, a major vulnerability of our economy with serious implications should the economy slow. The MLS Home Price Index still pegs the typical home in our region at just below one million dollars, suggesting that softening home prices are unlikely to significantly ease the amount of debt households take on in our region.
The GVBOT's 2019 Year in Review is a mixed bag for our region. Greater Vancouver enjoyed a generally robust and healthy economy but challenges inhibit the region from tapping into its full potential. Addressing these challenges will sharpen the region's competitiveness, underpinning the strong economic performance and the quality of life of our region.
---
Sources
---