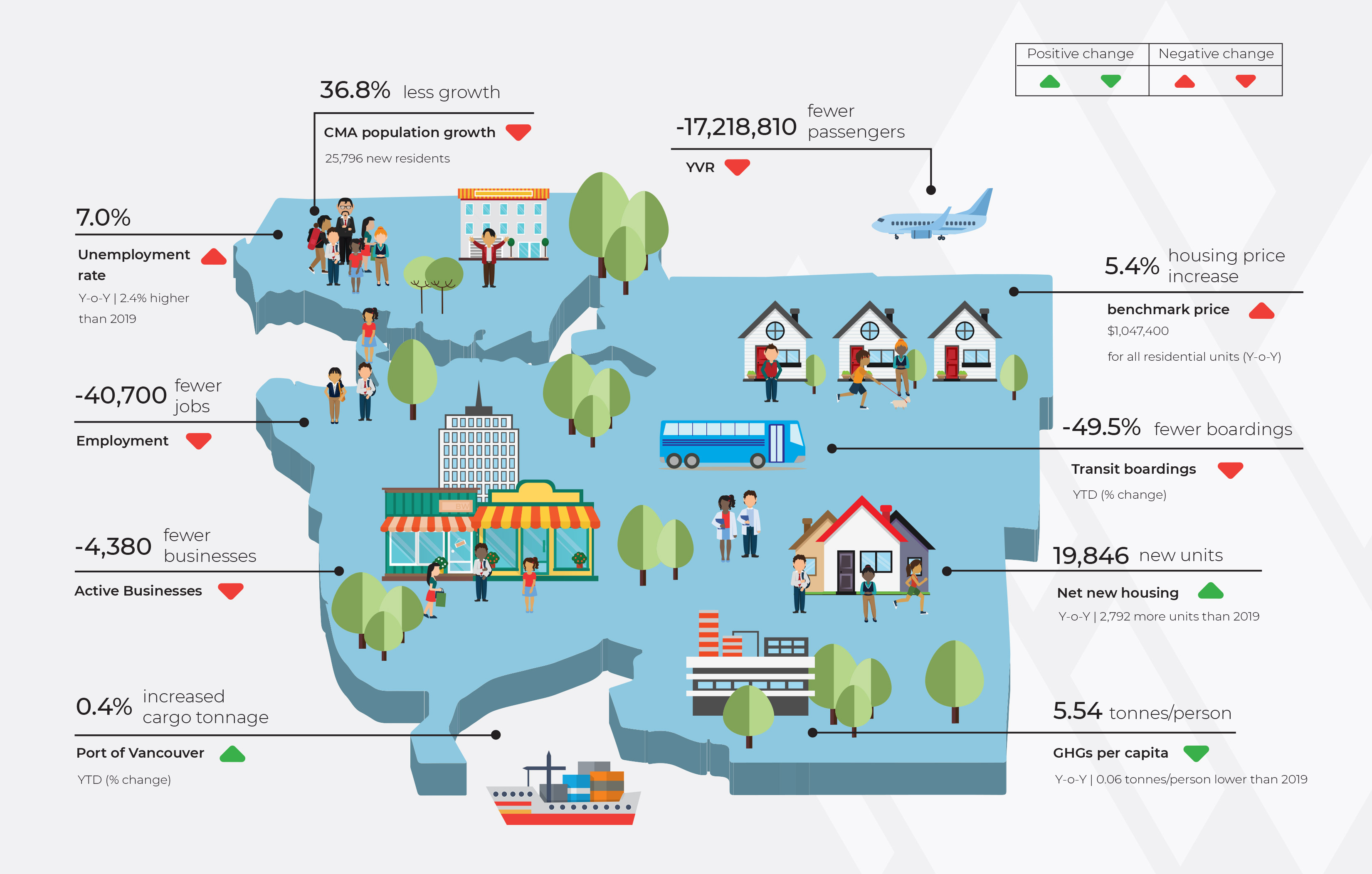 Greater Vancouver Regional Indicators: 2020 Region in Review
Region in Review gathers metrics on quality of life and economic prosperity to provide a snapshot of how Greater Vancouver performed over the past 12 months.
Unsurprisingly 2020 was a challenging year for our region. COVID-19 has forced many businesses to close their doors, it has also prompted a stark drop in travel, tourism, employment levels, alongside a dip in population growth. Meanwhile, housing prices have surged, exacerbating pre-existing affordability challenges.
It's not all bad news however. On the bright side, the Greater Vancouver saw an upswing in net new housing units, port activity remained robust, and emissions continue to decrease, pointing the way forward to our region's economic recovery.
Download the GVBOT's Region in Review 2020 to learn more.
Region in Review Analysis
Business and Employment Impacts
4,380 fewer active businesses in Greater Vancouver compared to the onset of the pandemic.
Between Dec 2019 and Dec 2020, the region lost 40,700 jobs. Toronto and Montreal recovered more jobs and more quickly compared to Greater Vancouver, only to decline in the last months of 2020 due to greater COVID-19 restrictions.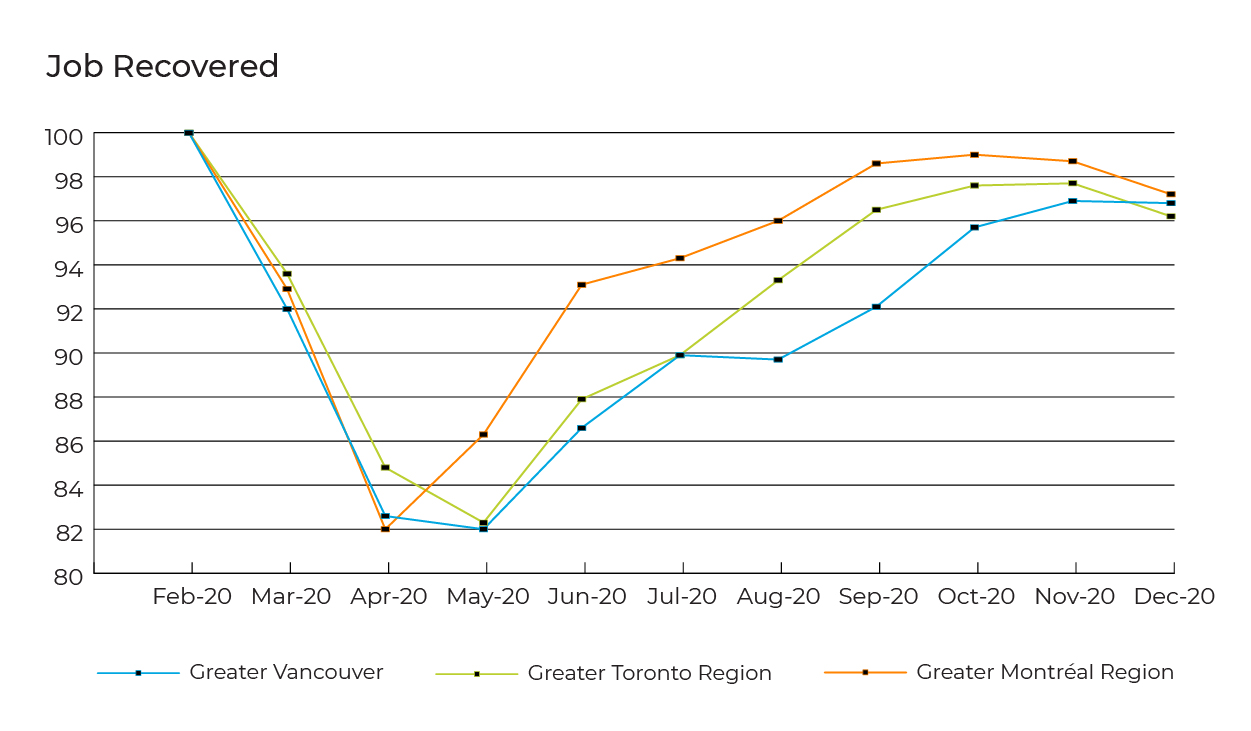 ---
Affordability
Continues to be a challenge importance of redoubling efforts
In 2020 the region built 19,846 new housing units (net), 2,792 more units compared to the same period in 2019. However, housing starts are down by 5,645 units (YTD Nov).
At $1,047,400, Greater Vancouver's benchmark price for all residential units increased 5.4% in 2020 (Y-o-Y Dec), remaining the highest in Canada and reflecting the first y-o-y increase in two years. For detached homes, the composite home price exceeded $1.55 million, an increase of 10.2% y-o-y.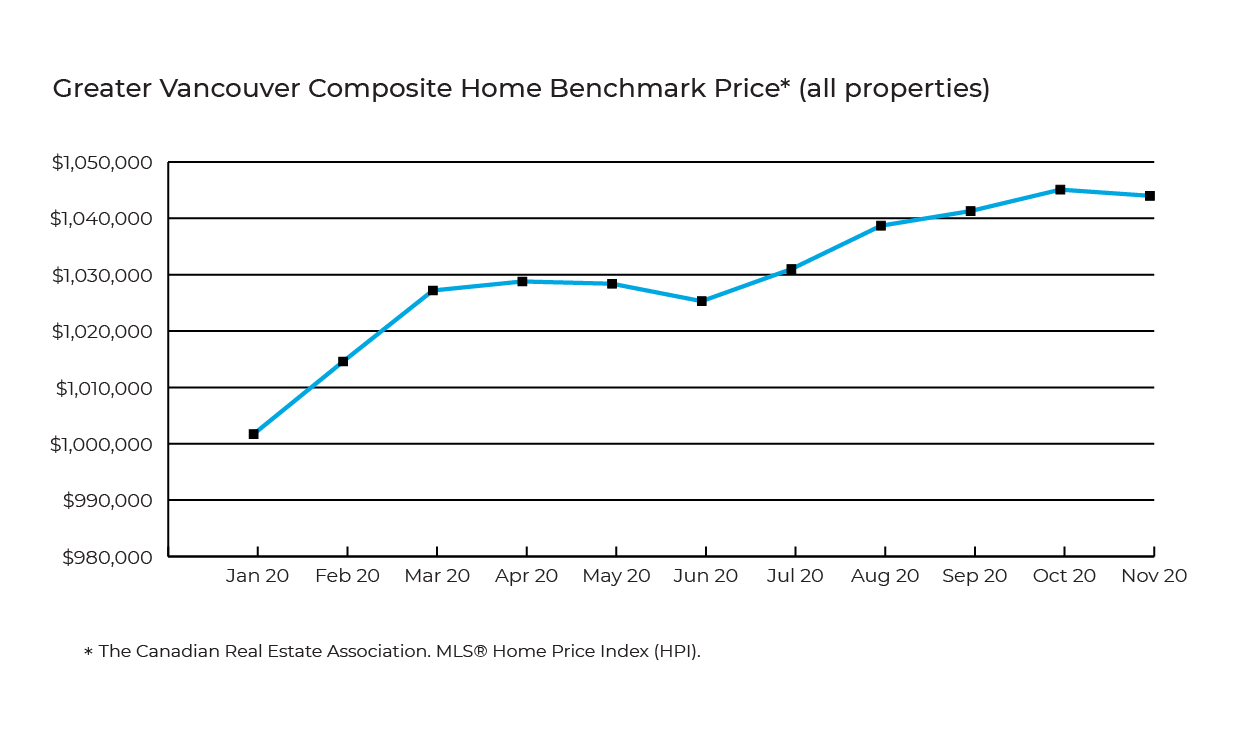 ---
Gateway
The Port of Vancouver's total cargo volumes (YTD Oct 2020) are on par with volumes recorded at the same time last year while container volumes are 1% above the 2019 volume (YTD Nov 2020).
Passenger traffic at YVR is down 17.2 million passengers or 85.3% compared to last year (YTD Nov 2020), while air cargo has recovered to near normal levels.
---
Looking Ahead
The overall office vacancy rate and sublet space in Greater Vancouver increased by 42% and 129.4% respectively over the last year. Changes were particularly pronounced in the very tight downtown Vancouver sublet market, which increased by a staggering 383% since Q3 2019.
Investment in tech remained strong, with stable levels of funding entering Greater Vancouver. Venture capital in the region*, exceeded $1.18 billions 2020 ranging from $246 million to $390 million per quarter.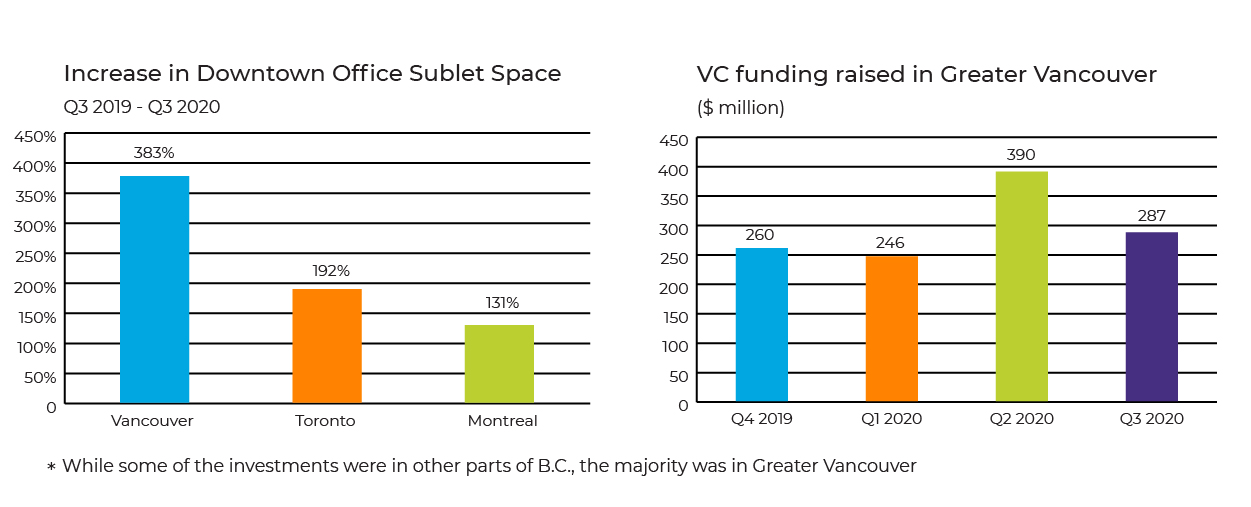 Summary of Indicators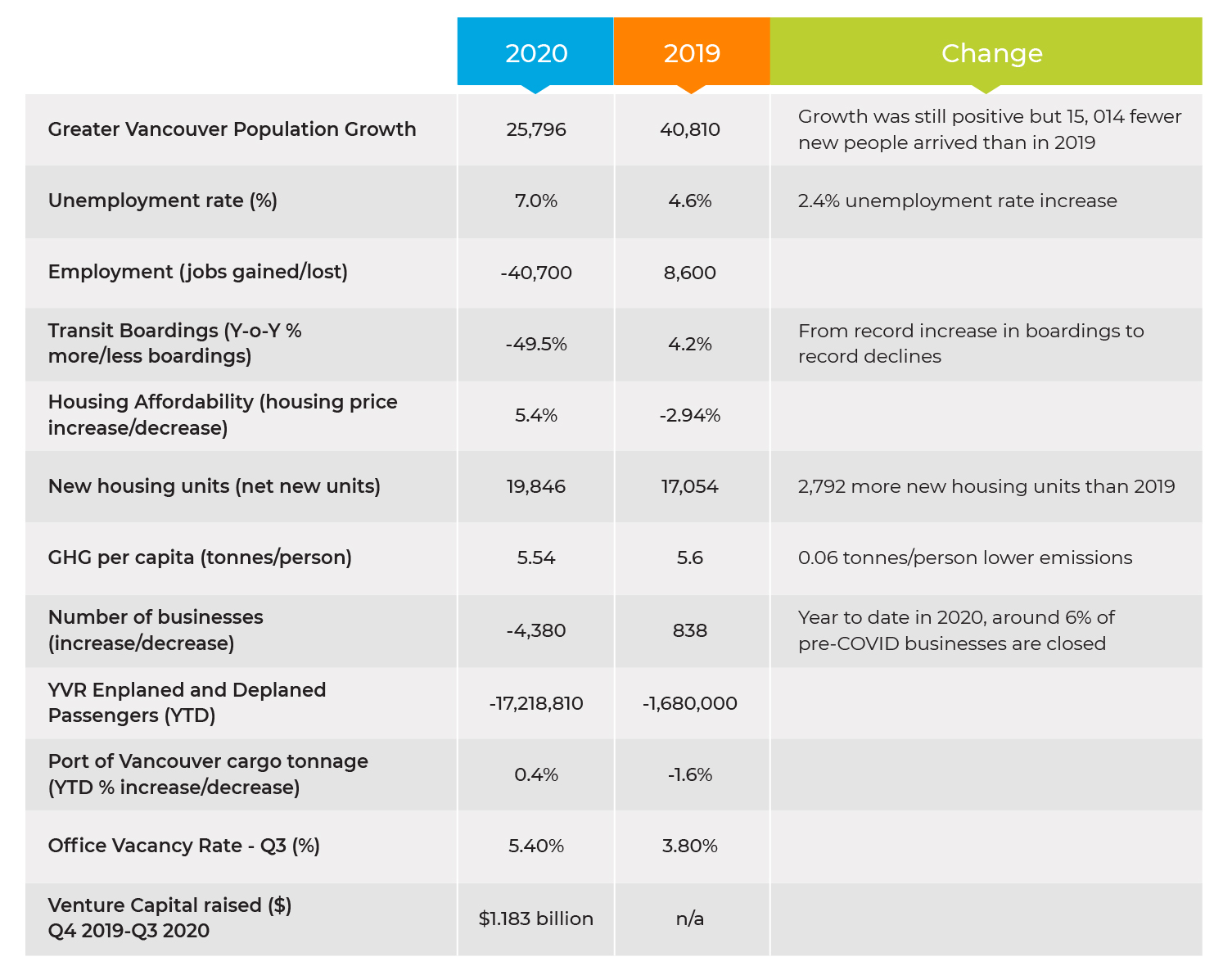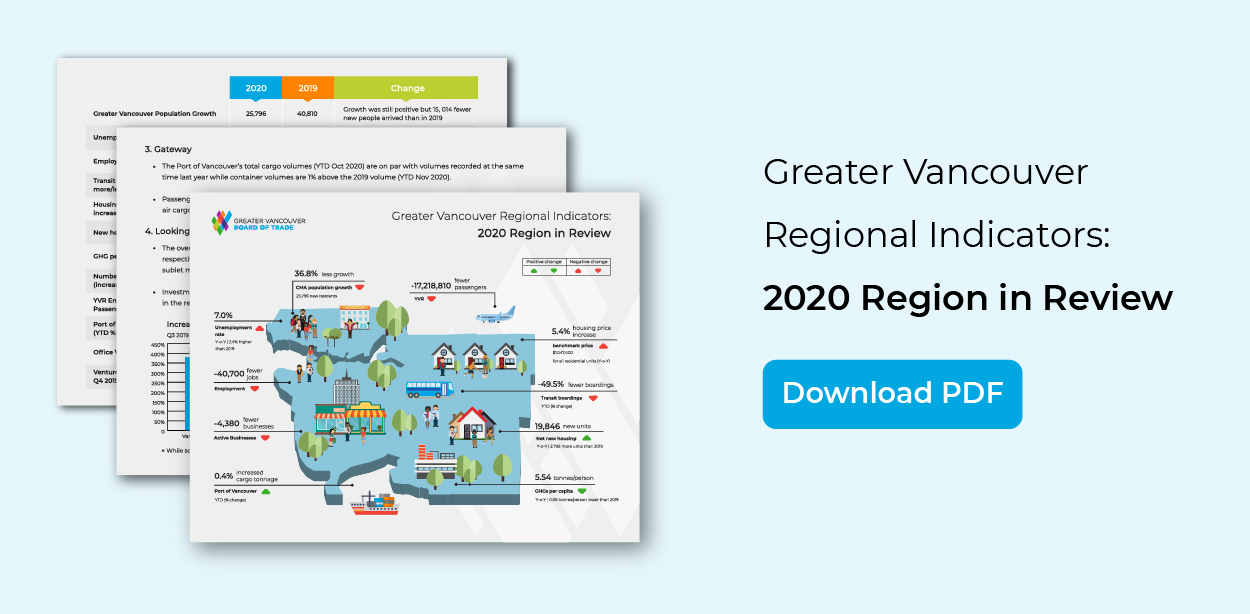 Sources
---