50% of booths already sold!
4th Annual Greater Vancouver Board of Trade Show
Register Now
Tuesday, October 24, 2017
3:30 PM
Exhibitor Information

Booth: 8x8
Premium booth: 10x10 - situated in high traffic area

Early-bird rates end July 28
Members booth: $399 + GST
Non-members booth: $599 + GST

Premium booth: $50 + GST
Power: $40 + GST
Wifi: $30 + GST

Attendee Information
Members: $15 +GST
Non-members: $20 +GST
Includes access to tradeshow, breakout sessions, 1 complimentary drink and appetizers

Schedule
Registration: 3:30 p.m.
Reception and trade show: 3:30 - 7:00 p.m.
Breakout session 1: 4:00 - 4:30 p.m.
Breakout session 2: 4:45 - 5:15 p.m.
Breakout session 3: 5:30 - 6:00 p.m.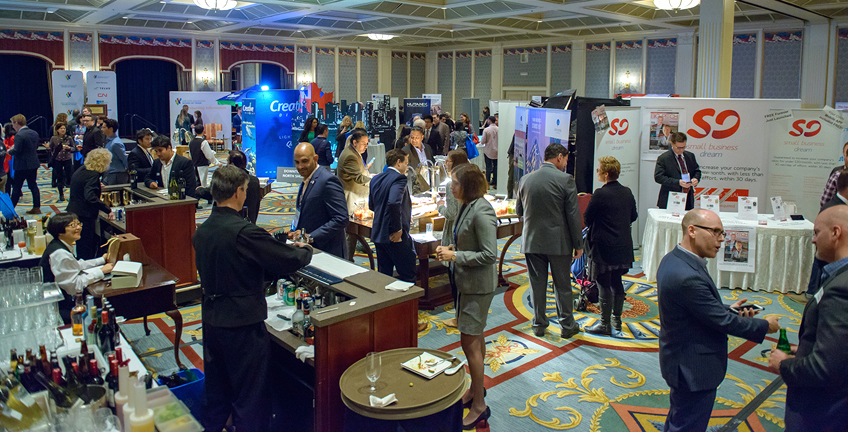 It's back! Our fourth annual Trade Show and Reception returns this fall, bigger and better than ever!
Make connections with businesses and individuals from across our region and hear from industry leaders on topics that matter to your business. This event attracts exhibitors and attendees from a wide variety of industries.
Only $15 stands between you and…
Connections:Network with more than 500 attendees and 60 exhibitors from the Greater Vancouver business community.
Learning: Participate in one of three speaker breakout sessions presented by our Small Business Council.
Prizes every hour!
Do you want to gain direct access to the senior-level audience at this event? As a sponsor, you will benefit from enhanced visibility, which can lead to new business and increased brand recognition. We offer a wide range of opportunities. To discuss how we can help boost your business, call Lisa at 604-640-5484 or email .