Registration is closed.
State of the Port: Building Canada's long-term trade success amidst shifting global, local dynamics
Thursday, November 23, 2023
11:30 AM
Schedule:
Registration & Lunch: 11:30 a.m. - 12:30 p.m. PT
Program: 12:30 - 1:30 p.m. PT
Submit Your Questions
We want you to be part of the discussion. To participate, go to slido.com and use the password #VFPA
---
Sponsor Resources
A Leading North American Transportation and Logistics Company
Essential to the economy, the CN team of approximately 23,000 railroaders transports more than C$250 billion worth of goods annually for a wide range of business sectors, ranging from resource products to manufactured products to consumer goods, across a rail network of approximately 20,000 route-miles spanning Canada and mid-America. Learn more
---
BC Maritime Employers Association (BCMEA) and our members are proud to be leaders in waterfront safety and training. Over the last decade, the BCMEA's membership have invested $35 million into the development and upgrading of a state-of-the-art, award-winning Waterfront Training Centre, located in Richmond on Mitchell Island. Since opening in 2013, the BCMEA has partnered with the International Longshore and Warehouse Union to deliver over 3 million hours and $180 million in the training and upskilling of B.C.'s waterfront workforce. Providing a safe and controlled training environment for new recruits while also ensuring minimal disruption to terminal operations, the BCMEA's Waterfront Training Centre is the premier site for waterfront training. Learn more here.
---
As a majority Canadian-owned and Vancouver-based company, our aspirations have always focused on establishing sustainable operations that benefit our neighbours, workforce, and customers. For over 100 years Global Container Terminals has been a proud member of the local community and one of the country's largest marine industry employers, contributing jobs locally and nationally. Our terminals are strategically located on the West Coast of Canada, and they boast some of the most advanced and largest on-dock rail facilities in North America. This superior technology along with our skilled teams work in harmony to ensure our customers avoid disruptions and their cargo is delivered reliably.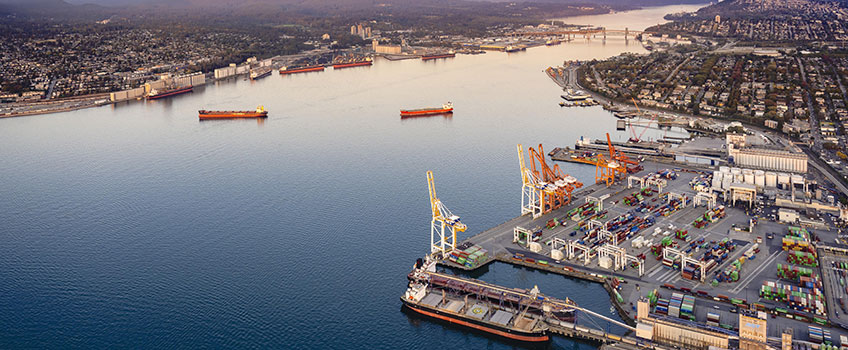 Rising climate impacts. Recent labour uncertainty, globally and locally. Canada's growing focus on Indo-Pacific trade. The war in Ukraine. The Lower Mainland's industrial land crisis.
These are just some of the dynamics shaping trade today through the Port of Vancouver, Canada's largest port.
The Vancouver Fraser Port Authority is the federal agency tasked with enabling Canada's trade through the Port of Vancouver. Working alongside port industry, which last year moved more than $300 billion in goods through the port, the port authority is preparing the port to meet Canada's growing trade needs, including by:
collaborating with industry on supply-chain optimization initiatives to enhance supply-chain performance;
exploring and advancing paths towards zero port-wide emissions by 2050, in alignment with federal climate targets;
advocating for sufficient trade-enabling industrial land in our land-constrained region to enable the Lower Mainland as a critical hub for national supply chains; and
leading infrastructure projects, such as the Roberts Bank Terminal 2 Project, which received federal and provincial project approvals in 2023, to deliver new trade capacity.
With a comprehensive executive search currently underway for the port authority's next president and CEO, this year's "State of the port" conversation will feature the on-the-ground insights and expertise of four members of the port authority's executive team.
Join the port authority team and GVBOT President and CEO Bridgitte Anderson as they discuss current challenges and opportunities at—and what the next era may hold for—Canada's largest port.
Panellists from the port authority's executive team: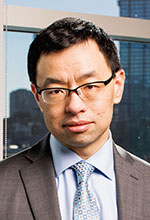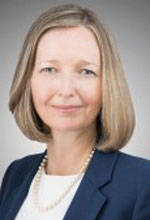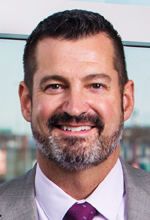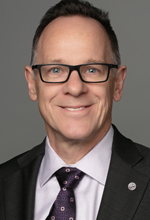 Victor Pang, Interim President and CEO; CFO
Jennifer Natland, Vice President, Real Estate
Duncan Wilson, Vice President, Environment and External Affairs
Peter Xotta, Vice President, Operations and Supply Chain