In the VoteLocal 2019 Federal Election Survey, businesses were asked about the level of federal government support provided in a number of industry sectors or on issues facing businesses. The majority of businesses believe the federal government should be doing more to:
increase the capacity of trade-enabling infrastructure in B.C. (70%)
support businesses and workers to adopt and adapt to automation, artificial intelligence, and the future of work (64%)
In addition, nearly half (49%) of respondents believe more should be done in the implementation of technology – such as the deployment of 5G.
Federal Gov't Doing Enough or Should do More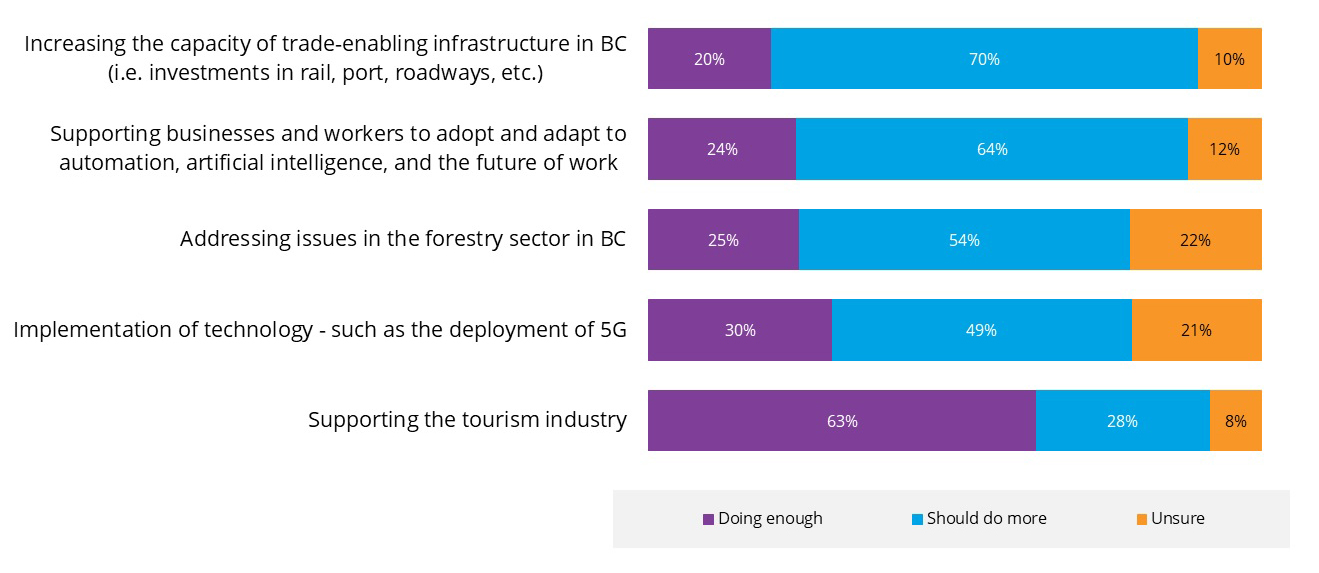 Respondents of the survey were overwhelmingly in support of the Mayors' Council on Regional Transportation recommendation that the federal government should establish a permanent transit fund to provide a long-term, predictable source of funding for public transit expansion in Metro Vancouver and other cities.
Support for Permanent Transit Fund

To read the full survey results, visit boardoftrade.com/votelocal2019.
Agenda For Growth — Policy Playbooks
In the lead up to the federal election, the Canadian Global Cities Council — a coast-to-coast coalition of Canada's eight largest chambers of commerce — has launched a new campaign called "Agenda for Growth."
Over the course of four weeks, the CGCC will release a new policy playbook each week exploring a topic that is of importance to our cities' and our national economy
The Greater Vancouver Board of Trade is proud to partner with our chamber colleagues in Calgary, Edmonton, Winnipeg, Toronto, Brampton, Montreal, and Halifax on this important initiative.
Click on the playbook covers below, or learn more at Agenda for Growth.